We know the employees here at ORSM are great to work with – great attitudes and work ethic, but it's always nice to hear when our customers appreciate them, too! We recently received a note from one of our customers sent to our project manager regarding one of our superintendent's work on the job site.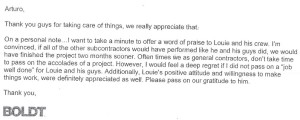 ---
Oklahoma Roofing & Sheet Metal is proud to partner with Francis Tuttle Technology Center, by purchasing a sponsorship in  "A Learning/Teaching Opportunity . . . not just a fundraiser" event.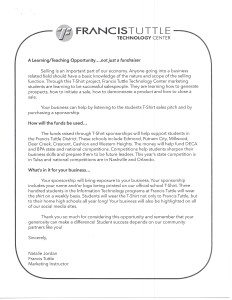 ---
Oklahoma Roofing & Sheet Metal is honored to make a donation of two (2) sets of 5/each Thunder Basketball tickets to the Northmoor Elementary 2015 Fall Festival Silent Auction. All proceeds from the auction will be used for Northmoor Elementary and will go toward building a school playgrounds cover.
We appreciate the opportunity to assist them in their goal and hope they have a great turnout for the event.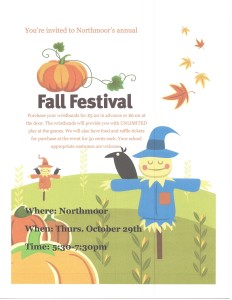 ---
New School Receives Technology in the Classroom
Recently, Oklahoma Roofing & Sheet Metal was able to help a classroom meet their technology needs after moving to a newly built school in Moore, OK.  We were able to help fund the donation of ipads and a new printer for Mrs. Mitchell's class at South Lake Elementary through DonorsChoose.org.
Oklahoma Roofing & Sheet Metal is proud of their program that honors the families of deployed military men and women.  Click here for more info.
NEWS
Homeowners please be cautious. Someone is soliciting business in the Oklahoma City metro area as our company and making threats to people's lives. If someone calls your home saying they are Oklahoma Roofing & Sheet Metal wanting to give you an estimate it is a scam. Please be vigilant of contractors if they are cold calling you soliciting work you did not request or need.  See the full story here.
Thank you to Representative Jon Echols for this story on why the Oklahoma Roofing Contractor Registration Act is critical legislation to get passed this year at the Capitol. See the full story here.
Thank you to Representative Mark McBride for sharing this story on roofing fraud in Oklahoma. This article indicates why we need tougher roofing registration laws in our state to help Oklahomans from becoming victims of fraud and shoddy roofing work. See the full story here.
Kansas has set a good precedent that Oklahoma should consider following. The Kansas Roofing Registration Act (KRRA) was signed by Governor Brownback on July 1, 2013. All contractors working as "roofing contractors" must now obtain a registration certificate from the Kansas Attorney General's office. All contractors must obtain this to do commercial or residential roofing in Kansas. See the full story here.
COMMUNITY
Hosting the Horseback Heroes event for children of deployed Oklahoma National Guard Soldiers was an honor for us at Oklahoma Roofing & Sheet Metal. Partnering with the military to give back to families who give so much for us is a small way to support those who support us everyday. See the full story here.
Mid-Dell schools recently experienced roof damage to Carl Albert High School which cost far more to fix than the school district had in their budget. Oklahoma Roofing & Sheet Metal didn't want to see them take any shortcuts on getting it fixed, so we helped them finish the project free of charge. Mid-Dell Superintendent, Dr. Pam Deering, said "Thank you! We are awed by your generosity. We are appreciative of your expertise. We hope that we never have roof and water damage again, but we know that companies like yours, Oklahoma Roofing & Sheet Metal, are there to uphold a standard for the business and to get the job done efficiently to avoid more costs. Thank you again!"
We are proud to sponsor the 2013 Roofing Golf Classic. All proceeds from this event are donated to Lilyfied Christian Adoption and Foster Care to help children find their forever family!
Oklahoma Roofing & Sheet Metal is proud to partner with the Association of General Contractors of Oklahoma and Rebuilding Together, OKC to help give Ms. Johnnie Mae of South Oklahoma City a new roof on her home free of charge. If you are able to volunteer supplies or time, please visit the website to learn more. Rebuilding Together, OKC
The Thunderbird Memorial Garden will honor the 19 fallen members of the Oklahoma National Guard since 2001. Oklahoma Roofing & Sheet Metal is proud to support this sanctuary that will serve as a tribute to those who made the ultimate sacrifice. Please help us in remembering those who gave their lives for the country they loved. We invite you to visit the website for more information. Thunderbird Memorial Garden